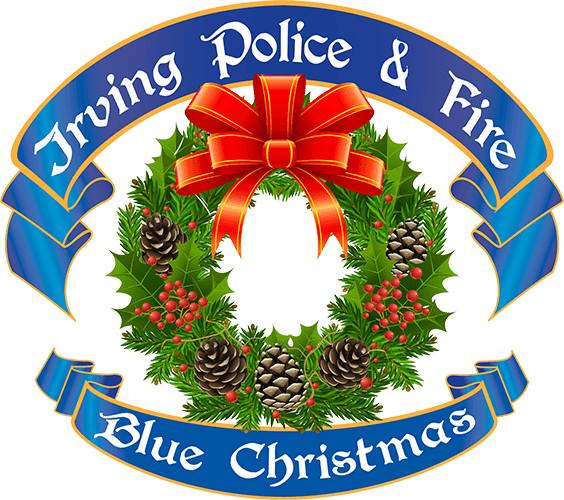 Benefiting the children of Irving during the holiday season.
We served over 320 families and more than 940 kids of Irving in 2021!
Welcome to the Official website of Irving Police & Fire Blue Christmas.
It's all about caring and giving back to the Irving community
In 1979, while Irving Police Officer Becky Fann was working in the community, she identified a number of families who had fallen on hard times. Becky realized that these families would not be able to afford giving Christmas to their children, so she made providing a Christmas meal and gifts for the children her mission. Becky raised money and donations through her peers and was able to give meals and gifts to 25 families in Irving, and with that, Irving Police & Fire Blue Christmas was born.
When she retired from the Irving Police Department in 2004, Becky's passion for Blue Christmas did not diminish; instead, she threw herself into making it bigger and better, adding in fundraisers such as the Annual Chili Cookoff and Pancake Breakfast, and seeking out corporate sponsors. Irving has responded to her efforts with many successful food drives, toy drives, and other events throughout the year focused at bringing the community together to help those in need.
For 40 years, thousands of families have received a merry Christmas from Blue Christmas, under the direction of Becky Fann. Although we lost Becky in January of 2020, her legacy of selfless service lives on through Blue Christmas, and her dedication to Irving has inspired many others to help the less fortunate in our community.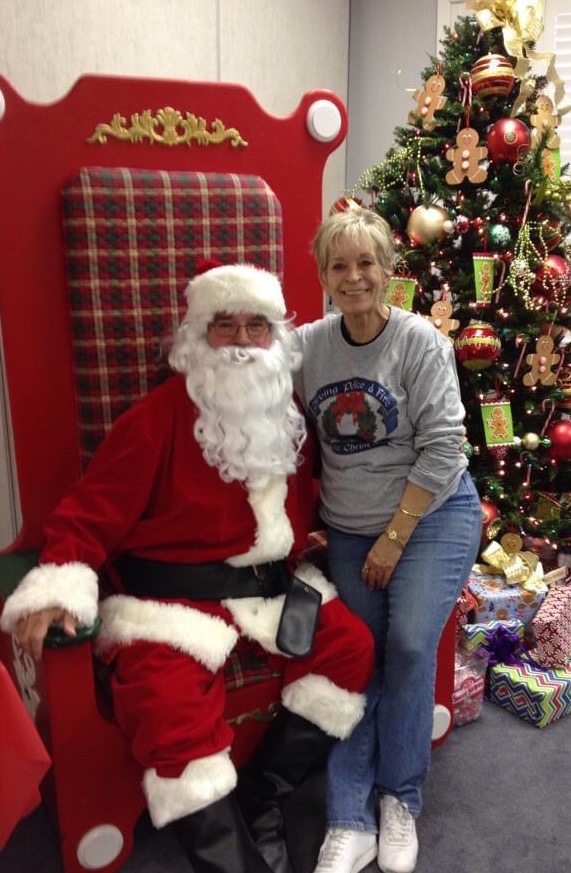 Becky Fann – Founder of Irving Police and Fire Blue Christmas
November 1st  Family applications are sent to Irving Elementary School Counselors.
December 6th Deadline for all family applications to be turned in.
December 9th Deadline for all food and toy drives to be finished.
December 17th and if needed 18th food and toys delivered to families.
From our donation recipient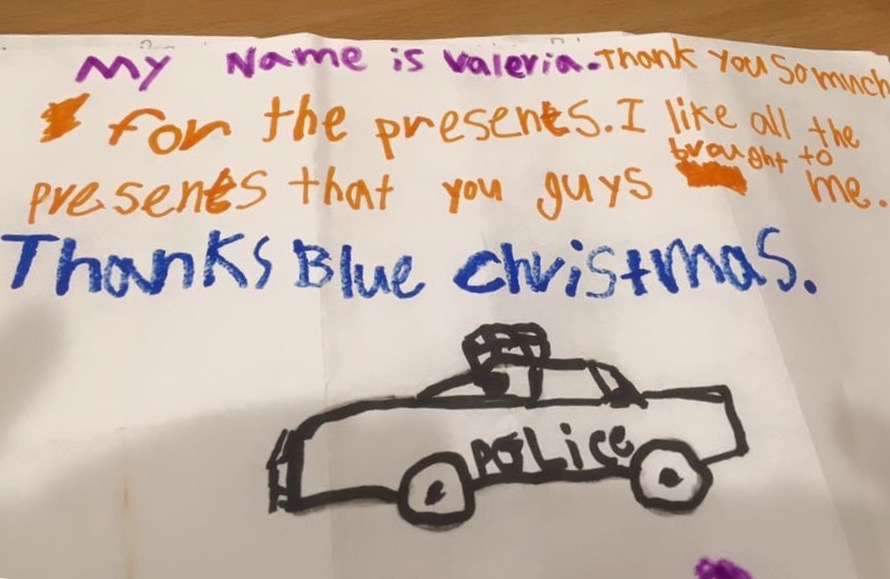 Irving Police & Fire Blue Christmas Organization was founded by Becky Fann in 1979. Board of Directors is made up of citizens, active and retired police and firefighters serving the City of Irving and its citizens.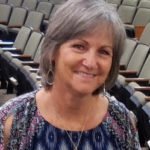 Kim Paris
Executive Director since 2019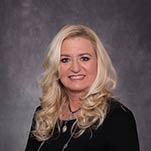 Kelly Ripley
Board Member since 2020
Gary Brockett
Board Member since 1998
Eduardo Ramirez
Board Member since 2021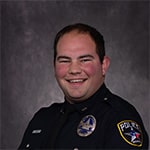 Sean Herp
Board Member since 2022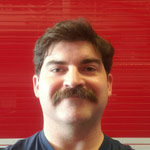 Bennie Renaud
Board Member since 2018
John Schingle
Board Member since 2014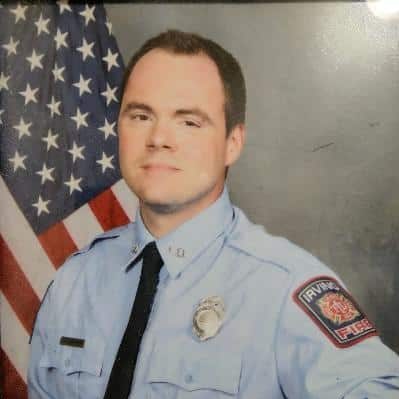 John Ringhauser
Board Member since 2022
Jacob Flores
Board Member since 2021
Thank you to all of our 2020 sponsors! We could not have done it without you!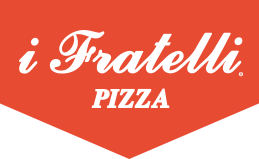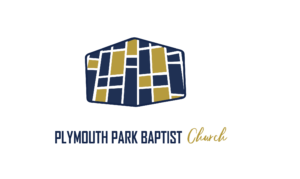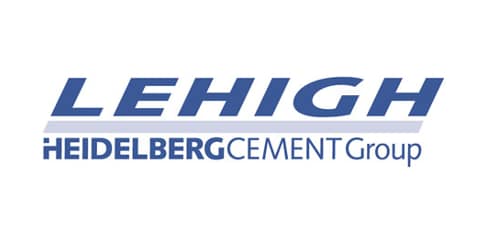 21st Century Dental
Texas Roadhouse #595
Via Real Restaurant
Big State Fountain Grill
Carol and Jerry Wicker
Ebby Halliday Realtors
Federal Home Loan Bank of Dallas
Gill Excavation
Irving Police Association FOP Lodge 323
Irving Professional Fire Fighters Association
Irving Parks & Recreation
Irving Citizen Police AAA
Irving Citizen's Fire Academy Alumni
Irving Quilters Guild
Joe's Coffee Shop
Kroger Public Affairs
Outback Steakhouse
Spring Creek
University of Dallas Athletics
Westin Dallas Ft Worth Airport Hotel
Lehigh Hanson, Inc.
Chipotle
Fairway Supply Inc.
Zak Products
Aunt Cissy's Kitchen & Catering
Mexican Sugar
M Crowd Restaurant Group
Office Depot
SLPS Aastha Charities
Hunington Hotel Group
Rick Fairless' Strokers Dallas
Maverick Harley Davidson
Longhorn Harley Davidson
Texas Harley Davidson
Trevor Story
Party City
Michaels
Irving Girls Cheerleader Association
Girl Scout Troop 5670
The Lakes of Las Colinas
Home Depot
We make it easy to make general donations using PayPal or AmazonSmile. We also take donations in the form of monetary (money), all non-perishable food items and new unwrapped toys from birth to 17 years of age.
Irving Police and Fire Blue Christmas is a 501 (c) 3 organization.
PayPal makes it easy to donate using your PayPal account or any major Credit Card. No PayPal account is required to donate via credit card.
Shop on Amazon and donate 0.5% of the price at no extra cost to you! You must start your shopping on the AmazonSmile website to participate. Learn more about AmazonSmile here.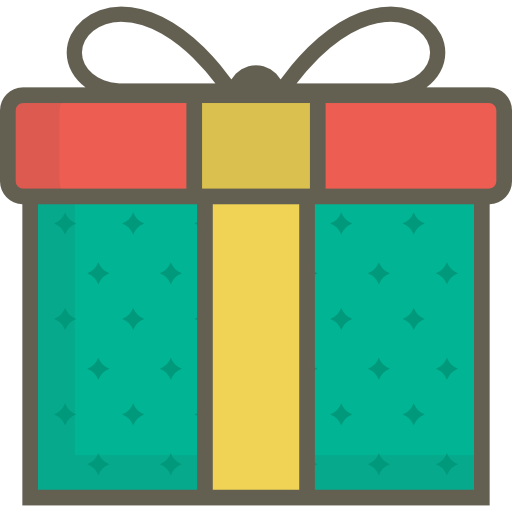 Learn more about how to donate non-perishable food items and unwrapped toys to a special person from the age of newborn to 17 years old.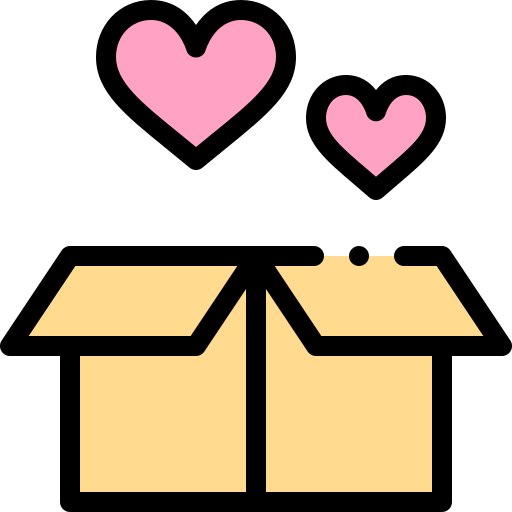 You can donate In Memory or In Honor of an individual anytime throughout the year. (add name and small note to "special instructions" field of PayPal Donate)
Our Address
PO Box 170386
Irving, TX 75017
Shop on Amazon and donate 0.5% of the price at no extra cost to you! You must start your shopping on the AmazonSmile website to participate. Learn more about AmazonSmile here.
Buying from our Amazon Wish List is a great way to help our community during the holiday season.
Click to View Wish List